Pharos is one of The Villain 10th Division ranger
Pharos

Pharos Alstreim. normal mode (left) and henshin mode (right)
Personal Info
Real name
Pharos Alstreim
Race
{{{race}}}
Gender
Male
Date of birth
October 30
Place of birth
England
Age
14
Laterality
{{{laterality}}}
Height/weight
158cm/42kg
Canvas
Note Crack Canvas
Faction
Villain
Division
10th Division
Ability Info
Weapon type
-
Weapon name
-
Fighting style
Special ability
Pet
{{{pet}}}
Special ability
Muffling sounds and turn sounds into beads or stones to musical notes that can be blown up to suit his own.
Berserk mode
Berserk
Appearance and Personality
Edit
Pharos described as a blue haired, blue eyes and tsundere. He is a calm person, but sometimes like to do strange things (Like tease his friend with his tongue-twister ability or blow-up innocent people) and become a yandere if drunk. He loves his hat, chemistry, and music, although his voice is false. Pharos dislikes crowded or noisy place and heat.
He always set his stoic face, and a lazy person, because he is a deep sleeper. He lazy at running, but fast at fleeing. HE is also a moody person.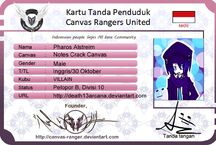 He lives alone since his parents die when he still a child. Afterthat, he joined Villain Canvas Ranger because he wanted to help his foster brother, Luc.
Henshin mode
Edit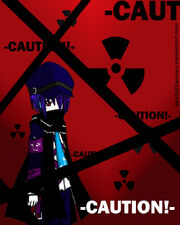 Effect of Henshin mode :
- Hearing +30% - Agility / Speed +30% - Power-explosive bombs manic musical notes +30%
Additional skills: - musical notation beads can last a long time before blown up and can be put away like an ordinary bomb.
He rarely use Henshin mode. He only use this mode when berserk.
His right eye become red to detect his musical notes bombs.
Relationship
Edit
- Pharos is mean 'mercu scuar' in Latin
- Other people said that his appearance similiar to Naoto in Persona